Google BigQuery


is a scalable data warehouse in the cloud,

thanks to which the quick analysis
of large data sets is no longer a problem.

Find out more >
BigQuery

– what is it?

BigQuery is one of the many services available in Google Cloud Platform (GCP). The storage and processing of large amounts of data is done in the cloud, on the secure, stable and scalable Google Cloud Platform infrastructure.

A huge advantage is the processing of terabytes of data, which is carried out without the need to install and maintain a complex infrastructure.

Find out more >
Why choose
BigQuery?
Serverless technology




Fast and efficient data analysis in BigQuery
Data warehouses process huge amounts of data much faster than regular database systems. It takes BigQuery a few seconds to process terabytes of data and about 3.5 minutes to process one petabyte, this speaks for itself. With such ultra-fast performance, data analysis is done in real time and changes can be observed "live".


Flexible costs
The billing model depends on the use of computing power, i.e. the amount of data that has been processed – in terms of minutes or seconds. Huge amount of data can be loaded into BigQuery warehouse, its storage (data storage) costs 20 USD/TB. If the data is not processed for 90 days or more, the package automatically changes to long-term- storage and the price drops by 50%. If we need to perform a query to the data, the cost is 5 USD per terabyte of processed and read data. Each month, the first terabyte is free.


Machine learning (ML) function in BigQuery
One of the features available is BigQuery ML (machine learning), this combination allows you to create and develop machine learning capabilities using standard SQL queries. The functions of this service can be used to create an analytical tool that will serve to track processes in the context of ongoing changes and the development of the company. Analysis of data describing these processes and changes allows Google BigQuery ML to identify regularities and trends and thus provide a forecast of potential impacts.
Big Query analytics has applications in every industry, from commerce to finance, logistics, industrial or FMCG.


How can we
help you?

We'll collect the data.
We will aggregate all your analytics, transactional and historical data from all sources. We can also help you identify and implement new data sources.

Move to the cloud
– take advantage of the scalability and efficiency of public cloud computing.

We will aggregate and configure the data
We will process and link the data in such a way as to enable you to draw conclusions and make informed decisions.
Big Data

Analytics

BigQuery has a service that enables advanced Big Data analytics. This allows you to import finished files or data processed in Data Prep and analyze them.

Google BigQuery data is an excellent source of LIVE data for Business Intelligece tools such as Tableau, Power BI or Google Data Studio. Find out more >
Knowledge of SQL language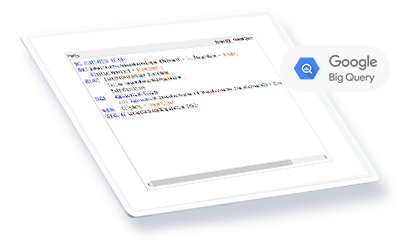 An essential skill for any advanced data analyst is knowledge of SQL. When working with BigQuery, this skill is essential.

However, for those who do not have such knowledge, the solution is to plug in Business Intelligence tools such as Tableau, Power BI or Google Data Studio, which will allow you to analyze data from BigQuery without writing queries in SQL.