New Data Model

Tableau 2020.2 training

Find out what solutions have been introduced in the new version of Tableau 2020.2, referred to as the New Data Model, which means changes in the appearance of the application and in the logic of calculation and construction of visualizations.

Try the New Data Model, and you'll gain the ability to link sources with relationships:

– which will increase the flexibility of the tool,

– will expand analytical capabilities,

– will have a positive impact on productivity.

Find out more >
Meet the
New Model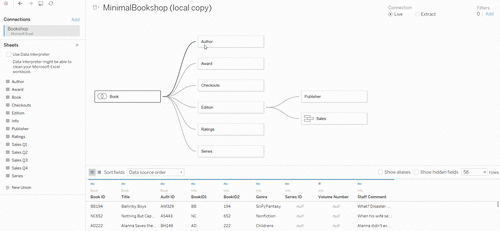 Successful implementation of Tableau 2020.2 requires an understanding of the new data model – so you can get the most out of the new version, and avoid many mistakes!

Tableau's new data model, means changes to the look of the application and the logic for calculating and building visualizations.

A new level has been added to data connection – relationship layers. They give you more flexibility and the chance to improve your performance.
Attend the New Data Model training where you will have the opportunity to:

Practically practice merging data under the new rules using all the options currently available.

Understand exactly how they affect the creation of calculations, including LOD.

Gain knowledge about how to deal with problems when creating visualizations on new principles resulting from a change in the logic of building visualizations.

Learn how to evaluate and influence the performance of solutions.
Sign up today!

New Data Model Tableau 2020.2

training

The date suitable for you

on-line

PLN 150 net/person
Fill out the form, we will contact you and match you with a training date.
Try the New Data Model

View Webinar
What is the New Data Model? How does it work?

What is the new date model?

How does it change the look and feel of Tableau?

How we link data together using new capabilities.

In what situations is it advisable to use the new solution, and when is it advisable to use flat joins and unions tables?

How the data model will affect already created data sources.

14-day trial period
Try the New Data Model


Keen to learn more?
Contact us!