Power BI
Looking for solutions to specific technical problems?
Do you want to strengthen your competences?
Take advantage of our services.
We are here to help you.
Find out more >
When to choose Power BI?
Power BI is a Business Intelligence tool from Microsoft's "ecosystem". The capabilities of this tool are rapidly expanding. It may not be long before Power BI is functionally equal to Tableau. Choose Power BI if:

you are beginning your adventure with Business Intelligence,

you have smaller amounts of data,

you have made a conscious decision to enter the Microsoft "cloud".
Check out the comparison between Tableau and Power BI
How can we help you with Power BI?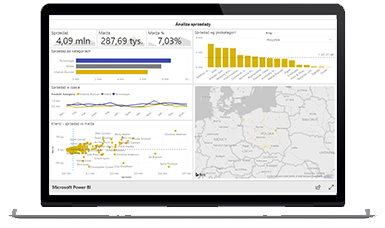 – We will prepare your data for analysis,
– design dashboards,
– prepare ETL mechanisms,
– train you to work freely in this technology,
– prepare calculations in DAX language.
Find out more >
Power BI Advantages

Data Visualization
Interactive, automatically refreshed dashboards, in a visually impressive form, allow you to quickly draw conclusions and make the right decisions.

Combining data from multiple sources
Automatic data retrieval facilitates efficient reporting and visualization of data from various sources without the need to implement such elements as a data warehouse, open many programs at once, or manually copy data.

Access data
from hundreds of supported local sources such as MS Office programs: Excel, PowerPoint as well as integration with other Microsoft environments (e.g. SharePoint). Also in the cloud – with such services as Dynamics 365, Salesforce, Azure SQL DB.

Data preparation and modeling
Data modeling in Power BI, i.e. capturing, transforming and integrating data, thanks to the Power Query add-on.

Publish and share data
report sharing at every level of the organization.
Power BI how to start?
Take advantage of our Power BI consultants.
Find out how we can help you.

Purchase of Power BI licenses,

Power BI implementations,

Power BI services,

Power BI trainings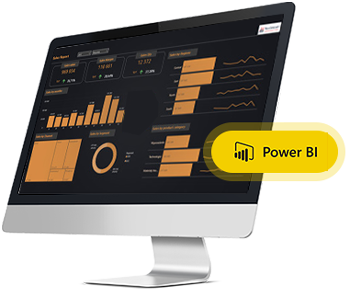 Power BI licenses price
You may have heard that this tool is free. This is true if you need to link to data from files, build a report and view it yourself. On the other hand, if you need to show the dashboard to others, then you will need Power BI Pro or Power BI Premium. Power Bi Premium is the full functionality of this tool, comparable to Tableau Server.

Power BI Desktop
is a free application that runs on Windows computers, allows you to connect to data, build a report and save to file and publish the report in the Power BI Online service.

Power BI online
is a free report server available through a web browser and mobile app that combines the functionality of Power BI Desktop (without the ability to save a file to your computer) with the ability to share reports, comment on them, set up data refresh processes and more.

Power BI Pro
allows you to share the report, limit data visibility (Row Level Security) or enable the automatic data refresh process. It costs $9.99 per user/month.

Power BI premium
enables big data analytics, cloud and on-premises reporting. It has advanced administration and deployment controls. Dedicated compute and cloud storage resources are included. Purchasing a Power Bl premium license allows each user to use all the content of the Power BI service.
from $4995
Monthly price for a dedicated cloud compute and storage resource with an annual subscription.
Request a consultation >
To find out how much it will cost to implement PBI in your business.
Contact us >
Power BI
– DAX language
In order to freely use Power BI and create analysis it is recommended to know DAX language. Mastering the M language is required to build data models in Power Query. Mastering these technologies is an essential part of the PBI implementation process.
Make an appointment for DAX training
Power BI
– MS Azure
The effective work of many PBI users in a company requires in practice the use of Microsoft cloud technology – usually MS Azure. This is an important aspect of implementation. It should also be taken into consideration when planning the work and budget. If you are not yet using Azure and would like to learn more, please
contact us >