What is
Tableau?
Tableau is the world's best BI tool (according to a Gartner Group report). Tableau proposes visual data analytics based on the Data Discovery approach.

Tableau's mission is "To help people see and understand data".
Find out more >
Tableau

– what is it?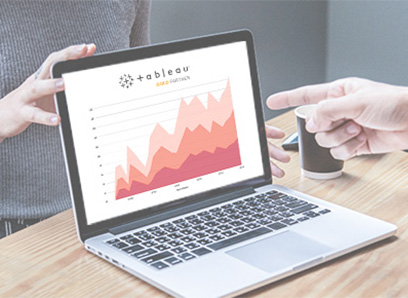 It provides rich capabilities for data analysis, visualization and presentation, instantly integrating with any data sources, thus offering better data utilization.

Tableau has about 80 built-in connections to various data sources such as – as ORACLE, ERP systems (SAP, AX, CDN, IMPULS), MS SQL SERVER, MySQL, DB2, Google Analytics, Hadoop, R, SAP HANA, MS EXCEL. As a result, anyone can analyze their data very quickly without being a database specialist.

Thanks to the unique VizSQL technology, which integrates database queries and optimal visualization, information access and analysis is up to several hundred times faster than when using traditional tools!
Try
Tableau

Tableau Desktop
Find out more

Download Desktop

Tableau Server
Find out more

Download Server

Tableau Online
Find out more

Download Online
Learn more about Tableau
Tableau
Tableau can integrate with the data source either in the "LIVE" mode – that is, it immediately presents any changes that occur in the source data (but it is then limited by the performance of the source database), or in the "EXTRACT" mode, processing data in the "in memory" mode using the unique and lightning-fast VizSQL technology.

In "EXTRACT" mode, you can easily analyze up to hundreds of millions of records without having to wait a long time for the analysis to complete. Importantly, all Tableau activity takes place within the company's data architecture and access security.

By making decisions based on data rather than opinions, you'll save time and make money. Tableau is used by over 90,000 businesses worldwide – including major corporations like Walmart and Facebook. Would you like to join them? Contact us!