Tableau
Tableau users continue to grow. The easy-to-use and functional BI tool is already used by more than 90,000 businesses, and the number is growing. Well-known corporations such as Facebook or Walmart visualize their data precisely with Tableau.

What is one of the best Business Intelligence tools according to Gartner Group report?
Try it for free
Tableau

– what is it?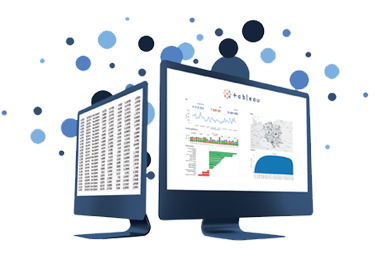 Tableau is a tool for visual, Data Discovery-based data analytics. The BI tool instantly integrates with any data source and enables data analysis not only for specialists, but anyone who wants to create clear visualizations based on their data.

It has over 80 built-in connections for various data sources, including ORACLE, ERP systems (SAP, AX, CDN, IMPULS), MS SQL SERVER, MySQL, DB2, Google Analytics, Hadoop, R, SAP HANA or MS EXCEL.
Tableau is a way to make better use of your data. The tool provides rich possibilities for data analysis, visualization and presentation.

Use Tableau to analyze and access data several hundred times faster than with traditional tools. Make data-driven business decisions to save time and money.
By integrating with the data source in LIVE mode, you can immediately see the changes occurring in the source data, but the performance of the database is then a limitation. \

In EXTRACT mode, on the other hand, you have the ability to analyze hundreds of millions of records without a long wait. Tableau works within the company's data architecture and access security.
Find out more >
Tableau

– why is it worth implementing?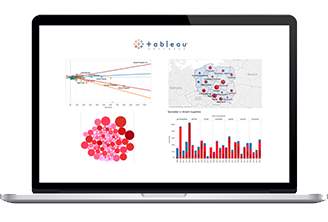 What are the benefits of implementing Tableau?
The tool allows for instant data analysis and enables processing of hundreds of millions of records in an extremely short time
. Working with Tableau is faster, more efficient and more productive. It only takes a few moments to create analytics and dashboards and share them. With clear visualizations, Tableau helps you make sense of your data and helps you make the right business decisions.
You can use the tool not only on your computer, but also on mobile devices, which makes it easier to access the analysis results. Tableau provides unlimited possibilities for data analysis. You can combine data from different sources in a single extract. You can also present data on point or area maps. The tool is available to anyone and its operation does not require IT knowledge.
Find out more >
Tableau

– history

It all started with a study commissioned by the U.S. Department of Defense to increase the ability to analyze information in a short period of time. The task was undertaken by Chris Stolte and Pat Hanrahan of Stanford University in San Francisco. They concluded that the key was to combine database technology and computer graphics capabilities in a single tool. This is how the VizQL technology was created.

It allowed people to analyze data using simple, graphical drag & drop tools. When Christian Chabot, a data analysis specialist saw the results of Pat and Chris' work he said: "I see the future." This was the start of Tableau, and Christian Chabot took over as CEO of Tableau Software, which quickly became successful. The tool brought a revolution in working with data in business, and Tableau Software became the world's leading provider of modern tools that support data analysis and visualization.