Tableau Server
Tableau Server is a
Business Intelligence

solution, which is an alternative to the inflexible solutions. Download Tableau Server
Tableau Server

Capabilities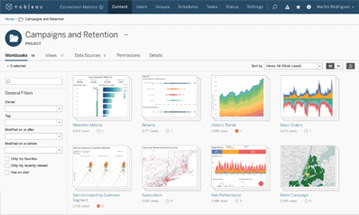 Once the desktop is published on a secure Tableau server, any user who has been granted the appropriate permissions can filter, highlight, and analyze its contents directly in their browser, tablet, or mobile version on their smartphone. No need to program anything.
Tableau integrates with your existing data architecture regardless of whether you store your data locally or in the cloud. It takes into account safety protocols and meets the requirements of even the largest organizations.

Publish and share data sources that anyone can use. Using Tableau's connectors, you can effortlessly connect to almost a hundred of the most common data sources in the business, such as: Hadoop, Oracle, AWS Redshift, Teradata, Microsoft SQL Server etc. Use a web data connector and APIs, and connect to completely unusual sources using ODBC or JDBC drivers.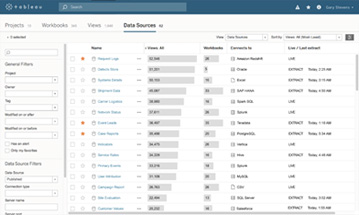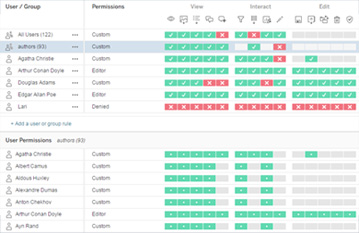 Tableau Server provides powerful permission management so you can easily track and manage content, users, licenses and performance.

With
Tableau Server: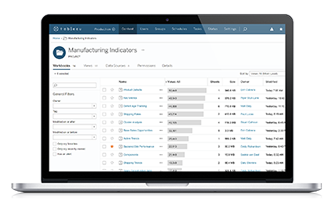 Tableau Server is ideal for companies that have their own data warehouse, because it is a secure way to share reports.
It will also be a good solution when a company works on data distributed in different systems that are not integrated with each other. You can then use Tableau Prep to clean up, prepare and combine various data, and then publish a uniform source on Tableau Server as a basis for preparing dashboards.
Tableau Server is also available in the so-called "embedded" version. In this cheaper variant you can offer licenses and access to desktops to your contractors, so that mutual cooperation between business partners enters a whole new level. Read more about the wide range of possibilities this solution provides >
The basic functionality of Tableau Server is the ability to share reports with any group of recipients, but only to the extent of data visibility and analysis that the permissions granted to users allow.
Download Tableau Server
Additional useful features of
Tableau Server

Planning
with Tableau Server, you can configure the automatic sending of analysis results by e-mail – so that the information reaches the selected group of recipients at exactly the right time.

Alerts
You can set alerts to notify selected people when a certain tipping point is reached.

Ask Data
type the question you would like to ask your data and get an immediate answer, directly in Tableau. The information appears in the form of clear visualizations and Tableau does not require you to know the data structure or any technical details.